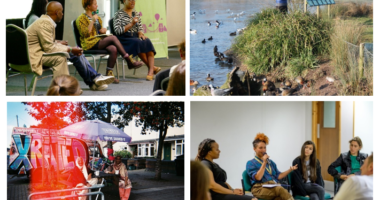 Black & Green Ambassadors for Bristol: Lunchtime Information Session [Online]
18/08/20
12:30 - 13:15
FREE
More details: https://bit.ly/blackgreenambassadors_1230infosession
---
Do you…
…feel passionate about environmental and social justice issues?
…enjoy connecting with a diversity of people and have a sense of your communities' needs?
…like to bring creativity and fresh ideas to your work?
…want to develop your decision-making, team-working and problem-solving skills?
If so, you might be interested in learning more about the Black & Green Ambassadors for Bristol programme and the opportunity to be a Black & Green Ambassador.
Join us at this short online session with Carlton (B&G Ambassadors Coordinator), Zakiya (B&G Alumni) and other members of the programme team to learn more about the project and its aims, and to understand more about the Ambassador role. There will also be an opportunity to ask questions about the role.
Read more about the role and how to apply here.
The event will take place online on Zoom. The joining link will be emailed nearer the time.
Don't worry if you can't attend on the day – we will record all the speakers and share the audio on our websites after the event so that you can hear what you missed.
Note: This event is not part of the selection process for the Ambassadors role. It is designed to raise awareness and understanding of both the project and the role, whilst also providing a space for those interested to connect and share ideas about the project.