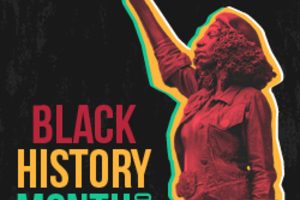 Black History Matters: Student Historians at Bristol
28/10/20
16:00 - 17:00
FREE
More details: https://www.bristolsu.org.uk/groups/bristol-su-black-and-minority-ethnic-network/events/black-history-matters-student-historians-at-bristol
---
For this event run by UoB History Department a number of undergraduate history students will showcase their research.
Speakers and Papers:
Anya Chatterjee: '""I seen folks disappeah"": An assessment of the meaning and function of the 'Flying African' folklore to the Gullah people of Georgia.'
Caine Tayo Lewis-Turner: 'Black Power as Trauma Politics: Rethinking the Black Atlantic, Memory, and Black Feminism, 1958-1974.'
Elias Williams: 'The Birth of Haiti: Violence, Spirituality and Slave Rebellion.'
Chair: Su Lin Lewis (History)
This event is taking place online. The joining instructions will be emailed to you on the day of the event.
This event is part of Black History Month. For more information about the month and the full programme, go to bristolsu.org.uk/blackhistorymonth