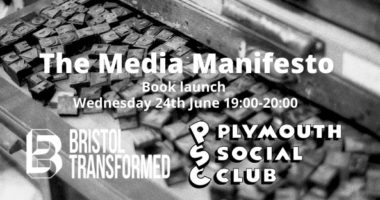 Book Launch: The Media Manifesto W/ Lina and Natalie
Activism
Music and culture
Talks
We live in a time of increasingly unaccountable politics, and this is enabled by an increasingly centralised and unaccountable media. The Media Manifesto puts forth a roadmap for radical reform of concentrated media power. We will be joined in discussion by two of its authors Lina Dencik and Natalie Fenton to explore the ideas laid out in the book and look forward to how we can enact change upon a media landscape so desperately in need of reform.
Published by Polity The Media Manifesto looks at the way our media systems are run by unaccountable corporations and dominated by agendas and algorithms that are shrouded in mystery. Once trusted sources of information and entertainment have lost their way.
It delivers a sharp analysis of our communications crisis and a passionate call for change.
This event is part of a series co-hosted by Bristol Transformed and Plymouth Social Club. Our aim is to programme content to provoke thought, inspire and be of practical value for the times we are living through.