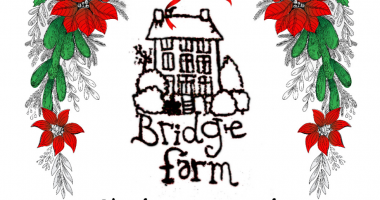 Bridge Farm Christmas Fair
18/12/21
11:00 - 16:00
£2 donation
More details: https://www.facebook.com/events/3031109053771510?acontext=%7B%22event_action_history%22%3A[%7B%22mechanism%22%3A%22discovery_local_tab%22%2C%22surface%22%3A%22bookmark%22%7D]%2C%22ref_notif_type%22%3A
---
We are delighted to be hosting our very first Christmas Fair at Bridge Farm. Join your local community farm for a weekend of stalls, craft, food and music.
Come and find local handmade and independent gifts and treats, sample delicious wholesome food in the café, listen to live music, enjoy some storytelling, make a Christmas wreath, drink some mulled cider, and see the latest developments at Bridge Farm.
Let's Gather, Share, Celebrate, Support & Nourish our Local Community Together!
10-4pm Saturday 18th & Sunday 19th December. The community cafe will be serving soup & bread, snacks, cake, coffee, teas and mulled cider. Entry is a suggested £2 donation Stall bookings – 07510751029
Save the date!