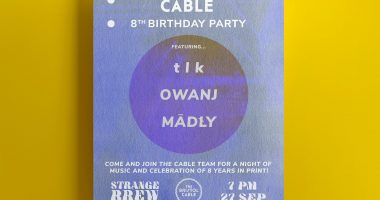 Bristol Cable's 8th Birthday
27/09/22
19:00 -
£4 for members, £10 otherwise
More details: https://www.headfirstbristol.co.uk/#date=2022-09-27&event_id=78849
---
To become a member of The Bristol Cable and to support our work please head here: www.thebristolcable.org/join
The Cable is not your average newspaper.
In 2014, a small group of volunteers decided to do something about the failures of corporately-owned local media. Through organising and crowdfunding with local communities, the Bristol Cable was born.
Today the Cable is 100% owned by thousands of local people. We produce quality local journalism in print and online, free to access for all.
More recently we've turned 8 and published our 30th edition! To celebrate we've invited some of Bristol's hottest musical talents to join us at Strange Brew for an evening of live and experimental music spanning electronica, hip-hop and spoken word, fusing rhythms, ehtereal vocals, mellifluous franco-wordplay and improvised sonic meanderings into a night you really cannot miss.

Feat.
t l k – stretches the thin fabric of selfhood, residing in the space between ethereal and mundane reality. In their first year of live shows, the t l k sound has permeated the Bristol scene, with debut EP Strength In Tenderness solidifying them as 'one of the city's most exciting experimental artists' (BBC Introducing). For this show, joined by formative collaborators James Storm Otieno (bass) and Liam Twohig (drums), they share improvisations from the precipice of realisation.

MĀDŁY – MĀDŁY has been collaborating with different worldwide producers to deliver her debut single '(Re)Tomber' and debut EP 'The End of Me' (2021). She created a live performance as part of a Bristol based 4-piece band alongside Alex Veitch (AVtrio), Harry Stoneham (Waldo's gift) and Joe Milkinson (Cousin Kula). Expect some Neo-Soul with a pinch of Hip-Hop, a sprinkle of Jazz & some French lyricism.

Owanj – British trio Owanj creates a uniquely relatable sound that reflects fundamental aspects of rhythm, vocal-driven composition and electronic music production. For this show Jemal Toussaint and Isla Greenwood of Owanj will be playing a stripped back set of some new material and experiments from over the summer months, expanding further on the bands unique sound.

Doors: 7PM – Tickets: Headfirst, OTD