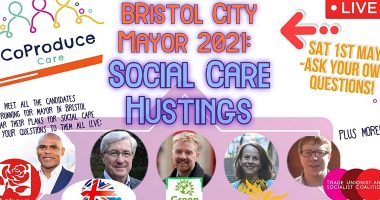 Bristol City Mayor 2021: Social Care Hustings
01/05/21
19:00 - 20:00
FREE
More details: https://www.eventbrite.co.uk/e/151960757717
---
LIVE –
Here at Coproduce Care, we are holding a live Q&A with the candidates running for Bristol Mayor 2021. Register to join us as we go live to hear from all of the candidates and put your questions to them.
Local Authorities, councils and their Mayor make huge decisions that affect social care. Find out the candidates thoughts on health, care, communities, rewards for carers, responding to the pandemic and more… direct and live with them all.
CONFIRMED – Marvin Rees (Labour), Alastair Watson (Conservative and Unionist), Sandy Hore-Ruthven (Green), Caroline Gooch (Lib Dem) Tom Baldwin (TUSC), with others TBC
ASKING YOUR QUESTIONS – You can submit written questions when you register here https://www.eventbrite.co.uk/e/151960757717 but you can also send your questions to 07537130213 – You can also use this number to send short (20 seconds) clips of you asking your question so that we can play it to the mayor candidates directly!!
Join here:
YouTube: https://www.youtube.com/watch?v=wL-3_i-unpE
Facebook: https://www.facebook.com/439674813253738/posts/858154918072390/