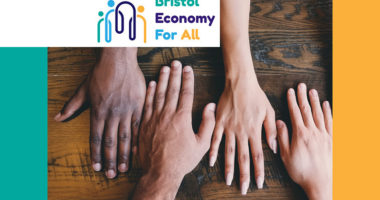 Bristol Economy For All
12/09/20 - 13/09/20
14:00 - 16:00
FREE
More details: http://hdfst.uk/E62730
---
Session 1: What is Community Wealth Building?
Sat 12th Sept 2020 2-4pm Free, online
Traditional economic development practice and developer-led regeneration are failing to address the economic challenges of our time. Community wealth building is a new people-centred approach to local economic development, which redirects wealth back into the local economy, and places control and benefits into the hands of local people. Is this approach practicable and desirable for Bristol and other local authorities? What impact do years of austerity, and the post Covid-19 economic crisis have on our ability to do this?
Panel: Neil McInroy (CLES National organisation for local economies), Joe Guinan (Democracy Collaborative), Malu Garcia (Bristol Inclusive Economy Unit), Jules Peck (Avon Mutual Bank) Bristol Deputy Mayor Asher Craig
Session 2: "How To" Start a Co-operative
Sun 13th Sept 2020 AM 10:30-12:30pm Free online
Practical session on how to get started for those interested in setting up a co-op or worker-led organisation in Bristol.
Panel: Successful UK co-ops Equal Care Co-op (Social Care) Tim Blanc Essential Trading Co-op Bristol, Co-ops UK and the Council Co-op Innovation Network will guide us through the journey: Recruiting Members -Market Analysis – Business Plan – Finance – Registering/Structuring your Co-op
Session 3: Bristol Economy For All Expert Session
Sun 13th Sept 2020 PM 2-4pm Free online.
A space for decision makers and policy developers to talk through the benefits and challenges of Community Wealth Building in Bristol. We will hear from those with experience of implementing key CWB principles in the UK. What has Bristol achieved and what are the next steps to progress CWB further? We will look at:
Community banks, credit unions, social investment
Assets and services working for the community – incorporate in decision-making
Support for local co-operatives and worker-led business to start up, grow and bid for anchor institution contracts
Anchor Institutions – progressive procurement
Local leadership to bring stakeholders together and drive strategy
Panel: Julian Manley (UCLAN, Chair of the Preston Co-op Development Network), Sado Jirde, Black South West Network, Jules Peck (Avon Mutual Bank), Rob Logan (Bristol University), Bristol Mayor Marvin Rees or Deputy Mayor Craig Cheney (TBC). Asima Shaikh, Islington Council Exec Member for Inclusive Economy & Jobs (invited, TBC)