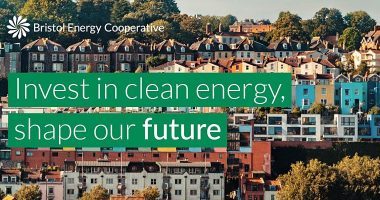 Bristol Energy Coop Webinar
08/12/20
18:00 - 19:00
FREE
More details: https://www.eventbrite.co.uk/e/invest-in-clean-community-owned-energy-registration-130578934107?aff=cable
---
Live webinar and Q&A to learn about Bristol Energy Cooperative and your opportunity to invest in, community-owned renewable energy.
---
For ten years Bristol Energy Cooperative has been developing community-owned renewable projects across the South West, delivering healthy returns on investments whilst addressing the greatest threat of our time, the climate emergency.
These 16 projects currently have a combined annual electricity output of over 9 gigawatt hours, which is enough clean energy to power over 3,000 homes.
Our highly successful model has already raised over £12 million, channelled £250,000 into projects that support communities, and all whilst consistently delivering investors a healthy return on investment.
Now, with the launch of our latest share offer, we are planning some exciting and innovative new projects including Bristol's first ever hydro electric scheme, and the UK's first net zero domestic housing microgrid.
We invite you to join us for a live one hour webinar and Q&A to learn about our journey so far and how you can be a part of shaping a clean energy future by investing in our latest share-offer.