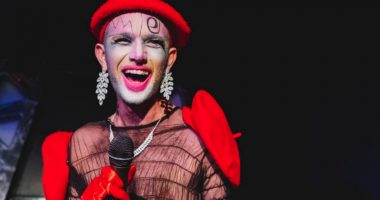 Bristol Pride Presents: A Vaccine Full of Joy.
29/06/22 - 30/06/22
21:00 - 22:30
£10
More details: https://tobaccofactorytheatres.com/shows/bristol-pride-presents-a-vaccine-full-of-joy/
---
A One Night Stand With Astro-Zenica – a very special Pride debut show from The House of Savalon
Join the zeitgeist Astro-Zenica, clown-mother of The House of Savalon, for a solo cabaret show as they take the audience on an immersive journey to ask the questions why are we here? Did they really just do that? What the hell's it all about?
Expect a glamonstrous drag show full of storytelling, spoken word poetry, live musical numbers and lots and lots of clowning.
This is a work in progress special debuting at Bristol Pride you lucky sods! Come join the fun, it's going to be a wonderfully stupid thyme!
Artist's Website
Connect on Twitter
Instagram: @AstroZenica_