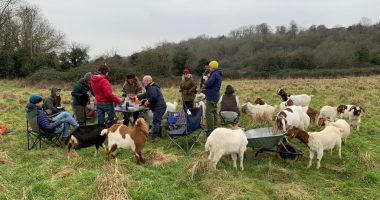 Bristol Tree Craft Volunteer Sunday
More details: https://chat.whatsapp.com/DHWH1aMv1TGLNe2FvsmBsM
---
Bristol Tree Craft volunteer Day
Sunday 10th September
The day will be a fun and varied medley of activities, helping us improve our workshop to deliver our free-to-access community sessions. There will be the chance to do some carpentry, learn some woodcraft skills, do some painting/oiling and stay fuelled with a wide array of snacks & refreshments.
Lunch is provided, in addition to beer/non-alcoholic drinks & samosas at the day's end.
10am-5pm
Location: Bridge Farm, Glenfrome Rd, Bristol BS16 1BQ
☀️
If you are up for it please join this WhatsApp group for details about the day.
https://chat.whatsapp.com/FbGp3Kks2K21B3UKru8PXj
Or contact:
Ben – 07904190075
Hugh – 07880890522