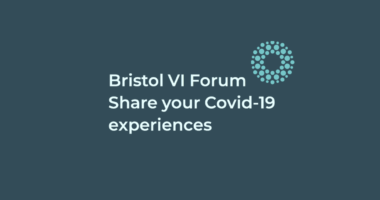 Bristol Visual Impairment Forum and Survey: share your Covid-19 experiences
21/07/20
19:30 - 21:00
Free
More details: https://www.sightlosscouncils.org.uk/news/bristol-vi-forum-share-your-covid-19-experiences
---
Are you blind or partially sighted and live in Bristol?
Join the Bristol Sight Loss Council visual impairment (VI) forum, on Tuesday 21st July, to share your experiences of lockdown as a visually impaired person.
Whether you are anxious about social distancing when travelling, or have faced challenges ordering your online food shop, we want to hear your concerns and your suggestions. We are working closely with Bristol Council and local health settings, to ensure local providers understand the challenges the pandemic has raised for blind and partially sighted Bristolians. We are dedicated to making positive change and giving blind people in the area a voice.  We want to hear your views to help us shape our future work.
The Bristol Sight Loss Council, funded by the charity Thomas Pocklington Trust and led by blind and partially sighted volunteers, advocates the needs, and campaigns on behalf of, blind and partially sighted people in the area.
Book your place
The VI forum is taking place via Zoom on Tuesday 21st July from 19:30-21:00. To book your place email alun.davies@pocklington-trust.org.uk  or register here*:
https://us02web.zoom.us/webinar/register/WN_OouImEyaRT6lblVyDPAktQ
Places are limited, we will get back to you to confirm your place as soon as possible.
The deadline for bookings is Friday 17th July.
Covid-19 survey
Alongside the forum, we are also running a short survey to capture your experiences of the pandemic. Your feedback will be vital in helping us campaign on the Covid-19 issues that matter to you in Bristol. The survey is open until 31st July.
Take the survey here: https://forms.gle/Nsoa46EtFFPz7n9YA
If you are not online, you can ring this telephone number 020 89961937 and someone will ring you back and help you complete it over the telephone.
*If you select that you would like to join our mailing list on the online registration form, you agree to your data being retained and used to send you information of interest to you. We will not sell or rent your information to third parties. We may share your information with third parties such as MailChimp or SurveyMonkey in order to send you communications or to canvass your opinion. You can opt out of these communications at any time by emailing: communications@pocklington-trust.org.uk