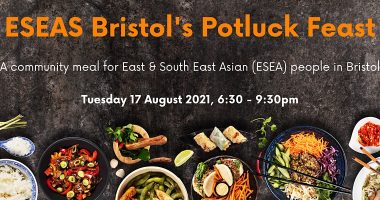 Bristol's Potluck Feast for East & South East Asian People
17/08/21
18:30 - 21:30
FREE
More details: https://bit.ly/ESEAS-Potluck
---
A potluck feast for East & South East Asian (ESEA) people in Bristol to meet and connect over food-sharing and story-telling.
About this event
ESEA people* of all ages in Bristol are invited to this community meal to meet others and contribute a home made dish to share.
Choose a recipe to cook /make and bring to the potluck feast – this could be your favourite dish, one that is important to you or unique to your family.
Cook the dish and record the sounds of the whole process – from preparing and cooking / making it to everything in between (including the chit chat!).
Share the recipe, audio recording and a picture – more info below.
Bring your home made dish and enjoy the sharing of food and drinks with good company!
Through this event, your recipes, stories and intimate sounds of cooking and making in the kitchen will be brought together to create a collective cookbook and soundscape celebrating the cultures and heritages of the ESEA community in Bristol.
This feast is part of ESEAS x Bridging Histories recipe activity (more info below).
Please note:
*This event is for people who identify themselves with heritage(s) from an ESEA country, including mixed-race ESEA.ESEA countries include Brunei, Cambodia, China, Hong Kong, Indonesia, Japan, Korea (North and South) Laos, Malaysia, Mongolia, Myanmar, the Philippines, Singapore, Taiwan, Thailand, Timor-Leste and Vietnam.
This event will be recorded and the audio recording will be edited for the soundscape.
Sharing your recipe:
Please complete this form to share your recipe contribution.
You can still share your contribution even if you're not attending the Potluck Feast.
About ESEAS x Bridging Histories:
East & South East Asian Solidarity (ESEAS) group aims to create a friendly space for ESEA people in Bristol to come together.
ESEAS is participating in Bridging Histories – a free programme of learning for everyone aiming to connect people, learn about the past and create positive change for the future.
ESEAS x BH series will focus on three activities: Recipes; Family History; and Changemakers.
COVID-19 statement:
All dinner guests are encouraged to take a rapid lateral flow coronavirus test on the day before the event.
If you have any of the main symptoms of coronavirus, please get a PCR test, stay at home and let us know.
The event may be subject to change or cancellation if there are changes to government regulations on social distancing – all registered attendees will be notified of any changes to the event as soon as possible by email.