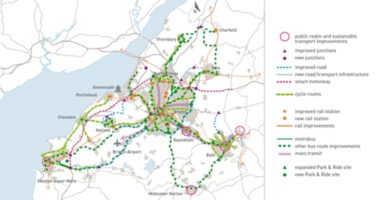 Bristol's Road Building Plans – Do We Need Them?
24/09/20
19:30 - 20:30
FREE
More details: https://www.eventbrite.com/e/free-online-talk-bristols-road-building-plans-do-we-need-them-tickets-113794887572
---
Does the West of England need more road building ? How does this relate to the 2030 carbon neutrality goals all our councils have adopted? Is there a budget for scaling up public transport and if so, is it sufficient for our decarbonisation challenge?
Dr Steve Melia, Senior Lecturer in Transport and Planning at the University of the West of England, is leading the campaign to stop the proposed new road building and get public transport prioritised. Having addressed the UK Climate Assembly on this subject earlier this year, Steve will discuss many of the issues of the Joint Local Transport Plan for the West of England, give you the facts about the proposals and answer your questions.