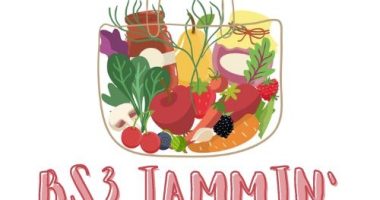 BS3 Jammin'
30/09/23 - 01/10/23
13:00 - 17:00
FREE
More details: https://www.facebook.com/bs3jammin/
---
BS3 Jammin' is proud to present the first community harvest BS3 Jammin' on 30th September to 1st October at St Paul's Church in Southville.
Take part in our very own 'Pick Your Own' trail where we provide the map for you to follow: visit people's gardens, allotments, public spaces and pick all the fruit and vegetables that's locally grown!
St Paul's Church will be the hub where any surplus fruit and veg can be donated. We'll also be hosting cooking workshops (show how to make jams, chutneys, etc from the harvest), do apple pressing to make fresh apple juice and we'll also invite people to take part in a cooking competition where you have to cook with what has been harvested! Any surplus will be distributed to food banks, food clubs, local charities and schools.
With so much freshly grown food on our doorstep going to waste; rising food costs on the forefront of everyone's minds and the increase in usage of food banks; it would be such a great way to bring people together and make use of everything we have. Let's educate each other on what is cheaply available to us, how it can be used and celebrate what we've grown!
Let's get BS3 Jammin' !
To get involved, please email: bs3jammin@gmail.com.