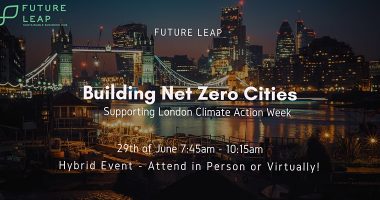 Building Net Zero Cities
29/06/21
07:45 - 10:15
£5.06 – £25
More details: https://www.eventbrite.co.uk/e/building-net-zero-cities-tickets-152666380253
---
About this event
Building net zero cities is a key part of the UK's carbon neutrality commitments. Therefore, we are running this event in support of London Climate Action Week (LCAW) as one of their four event themes "building a Sustainable, Net Zero London" in support of all cities across the UK.
Bristol committed to reaching carbon neutrality by 2030, which included setting a carbon footprint baseline. Carbon target setting on a city-wide scale is complex, and Bristol has been a wonderful case study. How did this work and what can other cities learn?
What is the Sixth Carbon Budget and how can cities engage in this?
Additionally, on the ground level, how can businesses and organisations collaborate with each other and with local authorities to support a net zero goal?
While promising signs are emerging, cities are still being hard hit by Covid-19. Cities are transforming, whether for better or worse. One thing is certain though, there will be no going back to how things were. LCAW aims to explore how London can build back after so much change, a theme that can be explored across all cities.
We are welcoming CSE, Vattenfall and Anthesis Group to speak at this event.
More information to be announced.
Government guideline and pandemic dependent, this event will take place physically and virtually. Both options offer the full event experience, including networking, Q&A and our famous 60 second pitches. Virtual attendees will need to B-Y-O-Breakfast!
If you purchase a physical ticket but the event is moved fully online, you can choose to have your ticket fully refunded or attend virtually with a partial-refund.
Agenda
07:45 – 08:10 – Registration, Breakfast and Networking
[Online Attendees: 07:45 – 07:50 Registration, 07:50 – 08:10 Group Networking]
08:10 – 08:20 – Introduction
08:20 – 08:35 – Rufus Ford, Vattenfall
08:35 – 08:50 – Simon Roberts, CSE
08:50 – 09:05 – Sara Telahoun, Anthesis Group
09:05 – 09:35 – Questions
09:35 – 09:40 – 60 Second Pitches
09:40 – 09:45 – Close
09:45 – 10:15 – Networking and Refreshments – Lessons Learned
[Online Attendees: 09:45 – 10:05 – Group Networking]