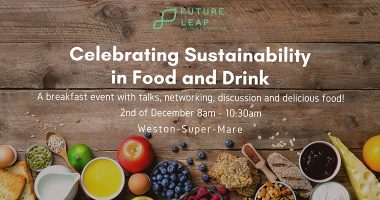 Celebrating Sustainability in Food and Drink
02/12/21
08:00 - 10:30
£5.06 – £25.20
More details: https://www.eventbrite.co.uk/e/celebrating-sustainability-in-food-and-drink-tickets-193595097147
---
With the holidays upon us, the food and drink sector see a particular ramp up in activities as people all over the globe celebrate with seasonal meal choices and new, inspiring recipes.
The food and drink industry impacts our climate and ecology; our choices as businesses, suppliers, restaurants and consumers can have a positive effect on the planet if we start to learn how.
So join us for this refreshing breakfast event with The Hive, Yeo Valley, Farm Wilder and Good & Proper to celebrate sustainable food and drink, become part of the sustainable food movement and learn what you can do – whatever part you play in the sector and wherever you are on your journey.
More information to be announced.
Agenda
08:00 – 08:20 – Registration, Breakfast and Networking
08:20 – 08:30 – Introduction by Future Leap
08:30 – 08:45 –  Clare Morris, Founder, Good and Proper
08:45 – 09:00 – Tim Martin, Founder, Farm Wilder
09:00 – 09:15 -  Fay Cooke, FD, Yeo Valley
09:15 – 09:45 – Q&A
09:45 – 09:50 – 60 Second Pitches
09:50 – 10:00 – Close
10:00 – 10:30 – Networking & Nibbles