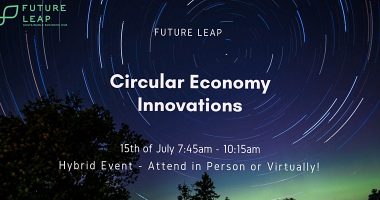 Circular Economy Innovations
15/07/21
07:45 - 10:15
£5.06 – £25
More details: https://www.eventbrite.co.uk/e/circular-economy-innovations-tickets-154417860979
---
A circular economy is based on the principles of designing out waste and pollution, keeping products and materials in use, and regenerating natural systems.
What circular innovations and circular business models are out there and how can businesses implement these ideas to progress their sustainability journey?
We are welcoming Network members Future Leap/Sustainable Business Design and CanCan to speak at this event.
Expect informative talks, valuable networking opportunities and inspiring discussions to further support your ability to discover, collaborate and innovate.
More information and speakers to be announced.
Government guideline and pandemic dependent, this event will take place physically and virtually. Both options offer the full event experience, including networking, Q&A and our famous 60 second pitches. Virtual attendees will need to B-Y-O-Breakfast!
If you purchase a physical ticket but the event is moved fully online, you can choose to have your ticket fully refunded or attend virtually with a partial-refund.
Agenda
07:45 – 08:10 – Registration, Breakfast and Networking
[Online Attendees: 07:45 – 07:50 Registration, 07:50 – 08:10 Group Networking]
08:10 – 08:20 – Introduction
08:20 – 08:35 – Eoin McQuone, Future Leap/Sustainable Business Design
08:35 – 08:50 – CanCan
08:50 – 09:05 – TBA
09:05 – 09:35 – Questions
09:35 – 09:40 – 60 Second Pitches
09:40 – 09:45 – Close
09:45 – 10:15 – Networking and Refreshments – Lessons Learned
[Online Attendees: 09:45 – 10:05 – Group Networking]