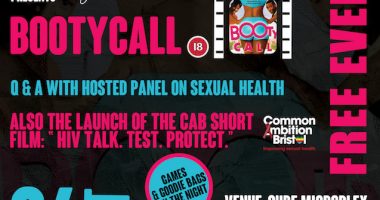 Common Ambition Bristol Cinema Jam to launch 'HIV: Talk. Test. Protect'
More details: https://cubecinema.com/programme/event/bootycall,12653/
---
To celebrate Black History Month, Common Ambition Bristol (CAB) are partnering up with DET Entertainment to host a free Cinema Jam event at the Cube cinema.
Join the CAB and DET Entertainment teams to laugh the night away with good vibes, great films and even better company. Watch HIV: Talk. Test. Protect. Find out more about CAB and what they do. Play games, chat about sexual health and finally…watch Booty Call, a 90s comedy classic.
Before you settle in for the main event, find out how CAB is working with their local community to combat stigma around HIV. Watch the premier of HIV: Talk. Test. Protect, a short film made and produced by the people of Bristol.
Join in with a panel chat about the film, the themes that come up in it and, most importantly, why Black Sexual Health Matters.
Watch the trailer for HIV: Talk. Test. Protect.