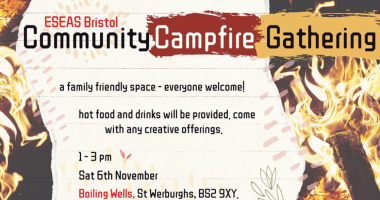 Community Campfire Gathering
06/11/21
13:00 - 16:00
FREE
More details: https://www.eventbrite.co.uk/e/community-campfire-gathering-tickets-184068532937
---
An autumnal afternoon gathering around the Community Campfire to (re)connect with people, communities & nature.
About this event
Catalysed by the rising hate crimes towards East and South East Asian (ESEA) people during the pandemic ?, ESEAS (ESEA Solidarity) Bristol was born in May out of the need and desire to create a friendly space for the ESEA community in the city.
Since then our grassroots community group has grown – forging and deepening connections and building solidarity within the ESEA community through sharing stories, food and crafting. This has culminated into our community cookbook and scrapbook, and sparked electrifying ideas which we would like to showcase and celebrate ?
With the bountiful ESEA joy that we've been steeping in over the last 5 months, we want to share it more widely with other communities in Bristol and begin to explore how we can collaborate and build solidarity together in the future. So on Saturday 6 November, everyone is invited to an autumnal afternoon gathering around the Community Campfire to celebrate the local ESEA diaspora and the potential for what's to come for all communities.
What to expect
This time and space is for (re)connecting with people and nature and being part of building authentic intercommunity solidarity over delicious food by the fire.
To carry forward the spirit of our previous events and spread the potluck joy, we invite you to contribute a dish ? There will be some delicious hot food and drinks provided ☕ And bring any musical instruments to play or creative offerings that you'd like to share. Wrap up warm ?, bring a blanket ?, torch ? and a leaf ? (more info about the leaf once you've signed up…).
See you by the fire! ?