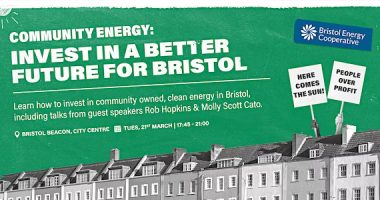 Community Energy: Invest In A Better Future for Bristol
21/03/23
18:00 - 21:00
FREE
More details: https://www.eventbrite.co.uk/e/community-energy-invest-in-a-better-future-for-bristol-tickets-578980033867
---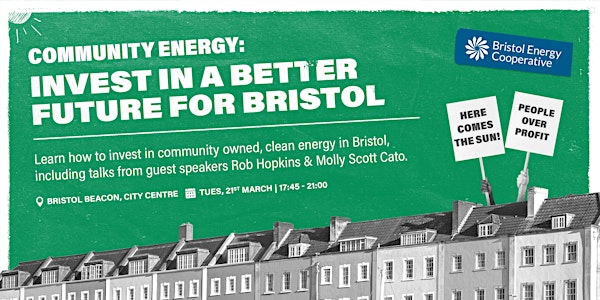 Join Bristol Energy Cooperative at a special event to help in tackling the climate crisis, with talks by Molly Scott Cato and Rob Hopkins.
Frustrated at the pace of action on the climate crisis? Here's your chance to make a meaningful difference on a local and global level.
Join us at one of our community-powered venues as we celebrate the amazing successes of Bristol Energy Cooperative. Meet the team, find out how you can invest in our latest Share Offer and become part of a brighter future for Bristol.
Celebrating with us are two leaders in the environmental movement; economics professor and former Green MEP Molly Scott Cato, and co-founder of the Transition Network, author and podcaster Rob Hopkins. Together we will be sharing our vision for a greener, fairer city fuelled with positive energy.
The event agenda:
17:45-18:15 Registration & Mingling
18:15-18:45 Event Introduction
18:45-19:15 Talks from guest speakers – Molly Scott Cato & Rob Hopkins
19:15-20:00 Panel discussion and Q & A – Andy O'Brien (BEC Director), Molly, Rob
The talks and panel discussion will wrap up by 20:00 but feel free to stay later for a mingle and a chat.
The event is free to attend but please reserve a space. The venue is fully accessible and disabled parking can be found in the NCP Trenchard Street car park. A lay-by for curb-side drop-off is immediately outside Bristol Beacon on Pipe Lane. Full access details for the venue can be found here: bristolbeacon.org/access/
Food and drinks are on offer on a first come, first served basis, so do arrive early!
By attending this event you agree to photography, in which you may be included, being used for promotional purposes.