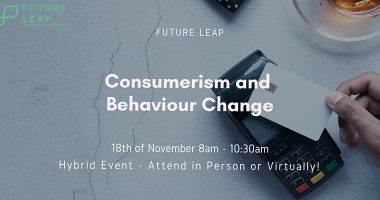 Consumerism and Behaviour Change
18/11/21
08:00 - 10:30
£5.06 – £25.20
More details: https://www.eventbrite.co.uk/e/consumerism-and-behaviour-change-tickets-181812565277
---
Consumerism is at the crux of many of the environmental challenges that we now face.
Demand will continuously outweigh the supply, so how do we see this as an opportunity to leverage this in order to generate behaviour change, transitioning from wasteful spenders to conscious consumers?
Join us to discuss consumerism and behaviour change…and how we can make sustainable choices more accessible for all.
Future Leap are excited to welcome Business Declares, The Party Kit Network and Network members Customer IQ and Frank Water to speak at this event.
More information to be announced.
Government guideline and pandemic dependent, this event will take place physically and virtually. Both options offer the full event experience, including networking, Q&A and our famous 60 second pitches. Virtual attendees will need to B-Y-O-Breakfast!
If you purchase a physical ticket but the event is moved fully online, you can choose to have your ticket fully refunded or attend virtually with a partial-refund.
Agenda
08:00 – 08:20 – Registration, Refreshments and Networking [Plus Virtual Attendees Networking Session]
08:20 – 08:30 – Introduction by Future Leap
08:30 – 08:45 –Ben Tolhurst, Director, Business Declares
08:45 – 08:55 – Q&A
08:55 – 09:10 – Gideon Barker, Customer IQ
09:10 – 09:20 – Q&A
09:20 – 09:30 –  Katie Endacott, Frank Water
09:30 – 09:40 – Q&A
09:40 – 09:50 – Cheryl Harpin, The Party Kit Network
09:50 – 10:00 – Q&A
10:00 – 10:05 – 60 Second Pitches
10:05 – 10:10 – Close
10:10 – 10:30 – Networking & Nibbles [Plus Virtual Attendees Networking Session]