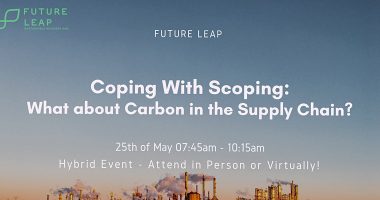 Coping With Scoping: What about Carbon in the Supply Chain?
25/05/21
07:45 - 10:15
£5.06 – £24
More details: https://www.eventbrite.co.uk/e/coping-with-scoping-what-about-carbon-in-the-supply-chain-tickets-142223184373
---
Join us for this hybrid business breakfast to discuss measuring and reducing supply chain carbon emissions in business.
Scope 3 carbon emissions are gaining increasing attention from both industry and Government. It is now recognised that they make up a large fraction of the emissions in any business.
Many businesses are committing to carbon neutrality with Scope 1 and 2 emissions, where the numbers are smaller and easier to measure – but what about Scope 3, the largest of them all?
One of the hardest parts of Scope 3 is understanding and measuring a business' supply chain emissions. How do we measure, reduce, and (lastly) offset our supply chain?
Join us for this hybrid business breakfast to clear the carbon confusion.
We are welcoming Network members Redshaw Advisors, Anthesis and Arbor Architects to speak at this event.
Government guideline and pandemic dependent, this event will take place physically and virtually. Both options offer the full event experience, including networking, Q&A and our famous 60 second pitches. Virtual attendees will need to B-Y-O-Breakfast!
If you purchase a physical ticket but the event is moved fully online, you can choose to have your ticket fully refunded or attend virtually with a partial-refund.
Agenda
07:45 – 08:10 – Registration, Breakfast and Networking
(Online Attendees: 07:45-07:50 – Registration, 07:50 – 08:10 – Facilitated Networking)
08:10 – 08:20 – Introduction
08:20 – 08:35 – Nicola Steen, Redshaw Advisors
08:35 – 08:50 – Elly Deacon-Smith, Arbor Architects
08:50 – 09:05 – Holly Browne, Anthesis
09:05 – 09:35 – Questions
09:35 – 09:40 – 60 Second Pitches
09:40 – 09:45 – Close
09:45 – 10:15 – Networking and Refreshments – Lessons Learned
(Online Attendees: 09:45 – 10:00 – Facilitated Networking – Lessons Learned)