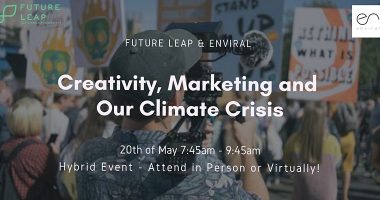 Creativity, Marketing and Our Climate Crisis
20/05/21
07:45 - 09:45
£5.06 – £24
More details: https://www.eventbrite.co.uk/e/creativity-marketing-and-our-climate-crisis-tickets-95627056099
---
Find out why brands need to use creativity and purpose in their marketing to solve the climate crisis.
Join us for a sociable morning of talks, activities & networking that will leave you with the key skills & confidence to use creative marketing as a tool in combating the climate crisis.
This hybrid breakfast event will mobilise brands and creatives to work together in using creativity and value-driven communications using business as the driver in positive behaviour change.
This hybrid event is kindly sponsored by Network members Enviral, a key brand marketing agency creating environmental and social campaigns for ethical companies.
We welcome speakers Enviral, Shambala Festival, Future Leap/Seatox and Kendra Futcher.
Government guideline and pandemic dependent, this event will take place physically and virtually. Both options offer the full event experience, including networking, Q&A and our famous 60 second pitches. Virtual attendees will need to B-Y-O-Breakfast!
If you purchase a physical ticket but the event is moved fully online, you can choose to have your ticket fully refunded or attend virtually with a partial-refund.
Agenda
07:45 – 08:05 – Registration, Breakfast and Networking
[Online Attendees: 07:45 – 07:50 Registration, 07:50 – 08:05 Group Networking]
08:05 – 08:15 – Introduction
08:15 – 08:35 – Joss Ford, Founder, Enviral – The importance of the marketing and the creative industries in solving the climate crisis
08:35 – 08:50 – Chris Johnson, Founder of Powerful Thinking/Shambala/Vision 2025 – Purpose, Impact and Voice – Ramblings of a festival organiser
08:50 – 09:05 – Kendra Futcher, Creative Copywrighter and Thinker – the language of climate change
09:05 – 09:25 – Panel Discussion
09:25 – 09:30 – 60 Second Pitches
09:30 – 09:35 – Close
09:35 – 09:45 – Finish and Mingle
[Online Attendees: 09:35 – 09:45 Group Networking – Lessons Learned]