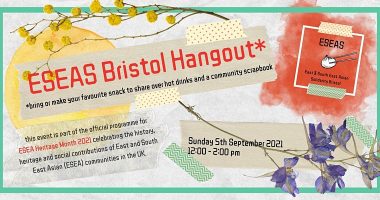 ESEAS Bristol Hangout
05/09/21
12:00 - 14:00
FREE
More details: https://www.eventbrite.co.uk/e/eseas-bristol-hangout-tickets-165520378909
---
A hangout for East & South East Asian (ESEA) people* in Bristol to get to know each other over snacks, stories and scrapbooking.
About this event
A casual space for ESEA people in Bristol to hang out and get to know each other, get scrapbooking and snacking – make or bring your favourite snacks to share over hot drinks.
We'd also like you to think about something that has personal significance to you; a family photo, your favourite book, a meaningful object, your favourite scent, a drawing… Bring this with you to the event as we will be putting together a scrapbook of us, celebrating ourselves and our histories.
If you can't come hang out but want to leave your imprint in our scrapbook, just complete this form to share something that is of importance to you, and a little about you. This scrapbook will be something that continuously evolves as our community grows!
This event is part of ESEA Heritage Month 2021 official programme and is the second of three events in the ESEAS x Bridging Histories activity series (more info below).
*This event is for people who identify themselves with heritage(s) from an ESEA country, including mixed-race ESEA. We'd also like to extend the invitation to our South Asian friends and family ♥
About ESEAS x Bridging Histories
East & South East Asian Solidarity (ESEAS) group aims to create a friendly space for ESEA people in Bristol to come together and be empowered to shape this space for the group's needs.
ESEAS is participating in Bridging Histories – a free programme of learning for everyone aiming to connect people, learn about the past and create positive change for the future. More about Bridging Histories' Family Histories activity here.
ESEAS x BH series focuses on three activities: Recipes; Family History; and Changemakers.
COVID-19 statement
All guests are encouraged to take a rapid lateral flow coronavirus test on the day before the event.
If you have any of the main symptoms of coronavirus, please get a PCR test and stay at home.
The event may be subject to change or cancellation if there are changes to government regulations on social distancing – all registered attendees will be notified by email of any changes to the event.