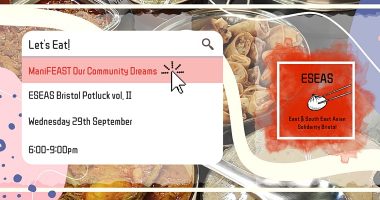 ESEAS ManiFEAST Our Community Dreams
29/09/21
18:00 - 21:00
FREE
More details: https://bit.ly/ESEAS-ManiFEAST
---
A potluck feast for East & South East Asian (ESEA) people in Bristol to share experiences, take stock, and dream big for the community!
After the sheer joy of our first potluck feast, we are inviting ESEA people* of all ages in Bristol to our second community meal to meet others, nurture our friendships, and contribute a home made dish to share.
This will be an opportunity to share where we are as a collective and where we want to be – so come with your community aspirations, speak them into existence and shape the way our community evolves. We want to build a strong framework for how we can help each other to make our community goals happen. There will be large paper, post-its and pens where we will write up, draw out, and respond to each other's wishes for the future.
Come with an open mind, ideas and maybe a tupperware to take home some delicious leftovers. This will be a safe and family-friendly space.
As always, we are extending the invitation to our South Asian friends in Bristol.