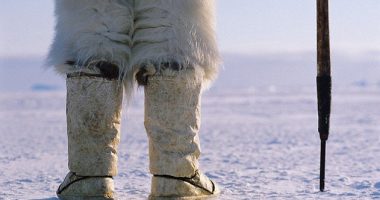 Fairytales for Grown-ups: The Girl Who Married a Dog
15/06/23
20:00 - 21:15
£12
More details: https://www.headfirstbristol.co.uk/#date=2023-06-15&event_id=87514
---
Every month, legendary storytellers, the Crick Crack Club bring their wild haven of fairytale, myth and epic to the awesome red velvet surroundings of Bristol's finest independent cinema, theatre and place of happenings – The Cube Microplex.
At the northerly point of north, before you reach the place where it's south in every direction, it gets very, very cold. In this snow-blinding place the weirdest, wildest stories are told… fierce, rude, funny and seriously strange.
Nell Phoenix revels in the earthy humour and passions of Arctic stories, peopled with unconventional families, the desperate and lonely-hearted, and elderly relatives whose attempts to assist are misguided, to say the least.
This is a place where what happens next is probably not what you'd expect – and some images will stay with you forever…
'KOOKY, CREATIVE AND OFF THE WALL' ★ ★ ★ ★ Everything Theatre
'NELL PICKS THROUGH HER TALE LIKE A MOUNTAIN GOAT SKIPPING UP A CLIFF FACE' London City Nights