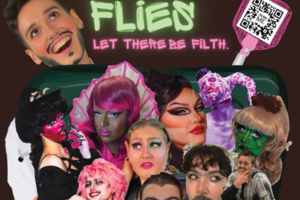 Fruit Flies: let there be filth!
17/03/22
19:00 - 01:00
£7.50/ £10.50
More details: https://www.bristolsu.org.uk/groups/drag-society-81a9/events/fruit-flies-let-there-be-filth
---
University of Bristol Drag Society presents Fruit Flies!
All students and non-students alike are welcome for a night of outrageous drag that will leave you yelling, weeping and throwing up. Our line-up is bursting and squirming and ripe with new talent and students from our society!
Location: Anson Rooms Bar (1st floor of the SU building)
DOORS OPEN: 7PM
SHOW STARTS: 8PM
SHOW ENDS: Midnight
This is an alcoholic event and the venue serves alcohol. The Anson Rooms Bar is accessible via a lift and there are accessible and gender-neutral toilets in an adjacent room. This is a standing show, but attendees with access needs have the option to book a table with a good view of the stage when they purchase a ticket. The show will be noisy, but attendees can go into the building foyer, where there are some sofas and it is much quieter, at any time. Drag Society operates a 'no-one turned away for lack of funds' policy – email us at dragsocietybristol@gmail.com if you need a free ticket, no questions asked.