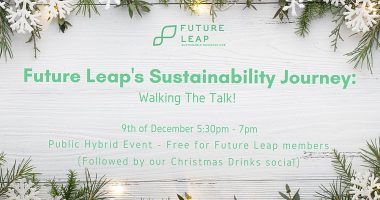 Future Leap's Sustainability Journey: Walking The Talk!
09/12/21
17:30 - 19:00
£0-18
More details: https://www.eventbrite.co.uk/e/future-leaps-sustainability-journey-walking-the-talk-tickets-191162912417
---
Join us for this free* hybrid event evaluating and celebrating Future Leap's 2021 sustainability journey, followed by our Christmas Drinks!
About this event
*Free event for Future Leap members and coworkers!
Future Leap give organisations the space, knowledge, contacts and tools to accelerate their sustainability journey and progress towards carbon neutrality. We showcase innovative solutions, facilitating future-thinking discussions and collaborating with one another.
We have a strong, ever-growing network of businesses passionate about their sustainability journey, and we support them with education, networking, promotion and more.
We also run the Future Leap hub, our carbon neutral sustainable business space, offering coworking, events space, consultancy, catering, lifestyle products and so much more!
In 2019, we set ourselves our own 2020 carbon neutrality target. In 2020, we achieved our target and set ourselves a further carbon reduction and started our B Corp journey. We would love to share with our community the journey we have taken so far, and hope that this learning will help other businesses progress their sustainability journeys.
Therefore we invite you to an evening of networking, discussions, tours and delicious eco-catering to celebrate the end of 2021 with us!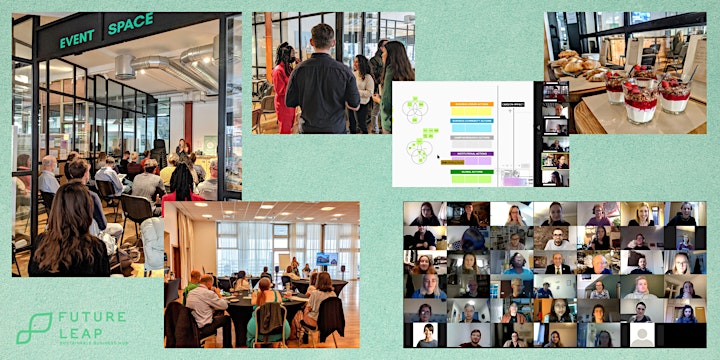 Agenda
17:30 – 17:40 – Registration & Refreshments [Facilitated Networking for Virtual Attendees]
17:40 – 17:50 – Overview of 2021 Network, Events and B Corp – Katherine Piper, Director of Partnerships, Future Leap
17:50 – 18:00 – Our Carbon Neutrality Update – Katherine Piper, Director of Partnerships, Future Leap
18:00 – 18:10 – Carbon Offsetting Update – Molly Byrne, The Converging World
18:10 – 18:25 – Q&A
18:25 – 18:30 – 60 Second Pitches
18:30 – 18:35 – Celebratory Close [End of event for virtual attendees]
Physical Attendees Only:
18:35 – 18:50 – Sustainability Hub Tour – Deepika Kesar, Coworking Manager, Future Leap
18:50 – 19:00 – Networking
[19:00 – 21:00 – Christmas Drinks Event – Invite Only]