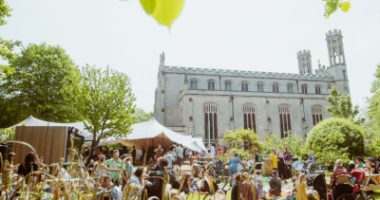 Garden Party: Voyages at The Trinity Centre
Festival
Music and culture
10/09/23
00:00 - 21:00
FREE
More details: https://www.trinitybristol.org.uk/whats-on/2023/garden-party-voyages
---
Embark on a journey through Bristol's rich cultural tapestry at Trinity Garden Party: Voyages.
As Bristol commemorates 650 years of city status, we invite you to join us in celebrating the extraordinary journeys that have shaped the city into a thriving hub of diverse cultures and artistic expression, showcasing the artists who have defined Bristol's musical and cultural legacy.
This free music and arts event features an eclectic mix of local artists, bands, DJs and performers. Garden Party is family-friendly, offering an array of workshops and activities to engage and inspire visitors of all ages.