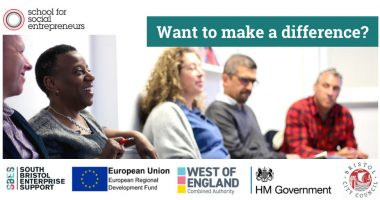 Getting Serious: Your Next Steps to Business Success – Free Social Enterprise Support
18/02/22 - 12/05/22
09:30 - 13:30
FREE
More details: https://www.the-sse.org/courses/sbes-next-steps-to-success-south-bristol-enterprise-support/
---
Do you run your own social enterprise, such as a community business, charity, or company dedicated to bringing about social or environmental change?
Want to know how to expand, grow, and stand on your own two feet without the help of grants?
Then our Getting Serious: Next Steps to Success course is for you!
This programme is for social enterprises in South Bristol – it's part of the South Bristol Enterprise Support (SBES) project, in collaboration with Bristol City Council.
What's in it for you?
Our fully funded (therefore free to access) programme will bring business developers like you together, with support and advice from experts – and each other. Over three to five sessions we will look at:
Your enterprise's vision and values
Measuring your enterprise's social impact
Income diversification – selling, costing, pricing and investment
Business planning
Branding and marketing
Understanding your customer
Sustainability – trading with people and planet in mind
There are opportunities for grants, business review panels and peer support as part of this programme.