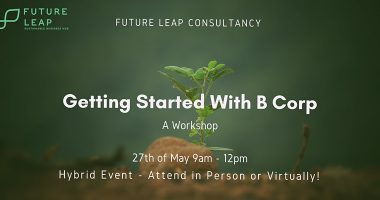 Getting Started with B Corp (Workshop)
27/05/21
09:00 - 12:00
£8.26 – £24
More details: https://www.eventbrite.co.uk/e/getting-started-with-b-corp-workshop-tickets-141971294965
---
Would you like to become B Corp accredited but would like support? Join us for this hybrid morning event to get your B Corp journey started!
About this event
Certified B corporations are legally required to consider the impact of their decisions on their workers, customers, suppliers, community, and the environment.
With our last two B Corp seminars proving extremely popular and the workshop selling out, we have seen a real need in businesses wanting to understand the certification and get the process started. Therefore, we are running another bespoke workshop with Andy Hawkins, B Corp Consultant at Future Leap and Chief Purpose Officer at Business on Purpose, for a small group to begin their B Corp journey.
If your business is committed to social sustainability and would like to start the B Corp process, join us for this workshop where we will go into a deeper dive of the certification's Business Impact Assessment (BIA).
This workshop showcases Future Leap's sustainability consultancy offer. There will be the opportunity to complete the BIA with further support.
If you attended our last B Corp workshop please be aware this is a repeat of the Governance introduction section.
Government guideline and pandemic dependent, this event will take place physically and virtually. Physical tickets include the full event experience. Virtual tickets include networking and a view-only mode for the workshop.
If you purchase a physical ticket but the event is moved fully online, you will still have access to the full event experience in comparison to "view only" attendees. If this happens, you can have your ticket partially refunded to account for having to B-Y-O-Breakfast!
Agenda
09:00 – 09:20 – Refreshments, Registration & Networking
(Online Attendees: 09:00 – 09:05 – Registration, 09:05 – 09:20 – Group Facilitated Networking)
09:20 – 09:30 – Introduction
09:30 – 09:50 – Andy Hawkins Introduction
09:50 – 10:00 – Case Study
10:00 – 10:10 – Break for a Cuppa
10:10 – 11:10 – Workshop
11:10 – 11:40 – Ideas Discussion – The Best Way Forward
11:40 – 11:45 – Close & Upcoming Events
11:45 – 12:00 – Optional Networking (Including Online Attendees)