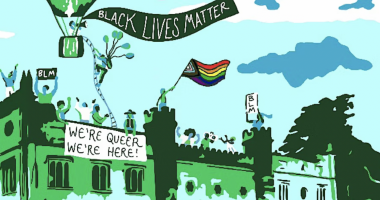 Haunting Ashton Court: Reclaiming Forgotten Histories
29/09/22
19:00 - 20:30
FREE
More details: https://www.eventbrite.co.uk/e/haunting-ashton-court-reclaiming-forgotten-histories-tickets-382831317777
---
An evening of spoken word, theatre and poetry at Ashton Court Mansion with Dan Guthrie, Saili Katebe, Tom Marshman and Asmaa Jama.
About this event (sign-up here)
What are the stories we tell about ourselves? Who has permission to write them? What does it mean to recover forgotten histories from historically marginalised perspectives? Come to Ashton Court Mansion for an evening of spoken word, theatre and poetry exploring these ideas. There will be performances by acclaimed Bristol artists Saili Katebe, Tom Marshman and Asmaa Jama, followed by a discussion and Q&A, hosted by writer and participatory artist Jack Young.
Dan Guthrie will be screening Coaley Peak: A Fragment as part of this event. Selected by Exeter Phoenix for their 2021 Artists' Moving Image commission, Dan's idea was to make a film about Blackness and belonging in the English countryside, taking a family photo of some of his relatives at the Gloucestershire viewpoint Coaley Peak as a starting point. Whilst making the film, something happened…
Free transport to and from the event is available for those in Bristol: please identify on booking form whether you require this and where you will be coming from. Please note: transport can only be provided if it is requested by Friday 16 September.
This event is Pay What You Can, with a suggested donation of £5 to cover our costs, although no one will be turned away due to lack of funds. Please message Bristol Ideas via Eventbrite or info@bristolideas.co.uk if you would like to come but don't have the funds.
Only one ticket can be booked per transaction. If you need more than one ticket, you can click on the booking link again.
Brought to you by Artspace Lifespace, Bristol Ideas, Acta Theatre and Bristol Pride Community Fund.
This is the first event in a new programme called 'Haunting Ashton Court', taking part throughout Autumn/Winter 2022 at Ashton Court, in association with Acta Theatre, Artspace Lifespace and Bristol Ideas and made possible through generous funding from Arts Council Project Grants and Bristol Pride Community Fund.
At the beginning of 2023, there will be a public performance exploring lost and silenced working-class histories of Ashton Court through theatre and historical fiction, devised by young people with a connection to South Bristol. Please follow Bristol Ideas, Acta Theatre and Artspace Lifespace for more information.

Artist Information
Dan Guthrie is an artist, researcher and writer whose practice often explores representations of Black Britishness, with an interest in examining how they manifest themselves in rural areas. In the last year, he has been a participant in East Bristol Contemporary's Day School programme, a panel member for Stroud District Council's review of streets, buildings, statues and monuments, and a part-time librarian. His work has been shown at the Whitstable Biennale, Alchemy Film and Moving Image Festival, Focal Point Gallery, Obsidian Coast and the ICA, and he is an Associate Programmer for the upcoming edition of Berwick Film & Media Arts Festival, having previously worked as a submissions viewer for London Short Film Festival and Glasgow Short Film Festival.
Saili Katebe is a Zambian-born writer, performer and workshop facilitator based in the South West of England. His work celebrates the musicality of language and the power of art as a way to connect people through story and creativity. He was the poet in residence on board SS Great Britain in 2019, and part of the "Iron Island" Project bringing the ship back to life, has appeared on stages across the country including performances as a finalist at the BBC Edinburgh Festival Fringe Slam in 2018. He has had his work featured on BBC Arts and BBC Radio Bristol Bristol. When he is not writing, or performing his own work, he actively seeks out opportunities to collaborate with other artists across other disciplines.
Tom Marshman has been a practicing artist for 21 years, and produced over 60 projects, across many mediums, including museum audio-tours, theatre & cabaret. Actively encouraging dialogue with participants through socially engaged processes such as 'Tea Parties' allows him evocative glimpses into everyday life, letting him tell engaging, poetic and unpretentious stories. An overarching theme of his work is that of the outsider and their story, particularly regarding the LGBTQ+ experience, stories that been omitted through archival silence. Tom actively encourages dialogues with audiences and participants, aiming to create a safe space to share thoughts and experiences. The results give very evocative and authentic glimpses into the everyday. To date, the purpose of Tom's work has been to address issues that are often considered as mundane or commonplace.
Asmaa Jama is a Somali artist and poet and co-founder of art collective Dhaqan Collective, based in England. This year, Asmaa was shortlisted for Brunel African Poetry Prize, shortlisted for the Wasafiri Writing Prize and longlisted in the National Poetry Competition. Asmaa is a Cave Canem 2021 Fellow. Asmaa has been published in places like Poetry Review, The Good Journal, Ambit, Ballast and Magma. And have been translated into French, Portuguese, Spanish, Swahili, German and Somali. Asmaa's writing has been commissioned by Arnolfini, Hayward Gallery and Ifa gallery.
Jack Young is a writer and participatory artist living in Bristol. He writes experimental fiction and non-fiction and has published works with Somesuch Stories, HOAX, Entropy, 3:AM, Burning House Press and amongst others. His debut chapbook URTH, in collaboration with the artist Nadia Scola, was published in 2022 by Big White Shed. He is also co-founder of multilingual literary collective Anemone and co-hosts the literary podcast Tender Buttons. He is currently curating a participatory programme based at Leigh Woods, entitled "The Body Forest", through his role as Engagement Fellow throughout 2022 at Spike Island Gallery in Bristol, which considers our connection to the more-than-human and ways we might de-centre the human while thinking about community, time, desire, and language.
Image credit: Rosie Bond
Accessibility Information
Wheelchair access to the Music Room is via the West Lawn Entrance. There is also a disabled access toilet on this side and there are wheelchair ramps that can be used too, as some wheelchairs find the 1cm lip at the entrance difficult. The ground floor is wheelchair accessible via the West Lawn Entrance. There is a 1cm gap between the tarmac and the entrance so please let us know if you need additional wheelchair ramps put in place. There is a wheelchair-accessible toilet (with baby change facilities) and a gender-neutral toilet in the North West wing. The toilets beside the Music Room are not accessible toilets. There are Blue Badge parking spaces in the Kennel Lodge Road car park. Guide dogs and hearing dogs are very welcome. There are no induction loops in the building.