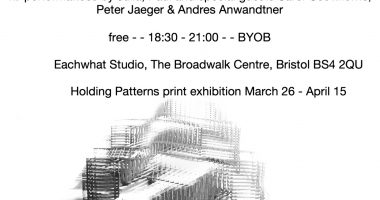 Holding Patterns book launch and print exhibition
28/03/22 - 15/04/22
10:00 - 15:00
FREE
More details: https://eachwhat.com/Holding-Patterns
---
Holding Patterns is the first instalment of a collaborative project by Julia Rose Lewis and Paul Hawkins. Holding Patterns was published in book form by Beir Bua Press in December, 2021. More details here
There is an exhibition of prints from their book at Eachwhat Studio. Prints are available to buy.
"Lewis and Hawkins sensitively deploy unexpected colour saturation and light exposure, off-kilter framing, and oblique perspectives to suggest permeability and fragility in the face of the barrage of sensory stimuli which is America and indeed, much of the world, today. The collection overtly explores themes of travel, technology, memory and place, but it is also a moving synthesis of two personal archives which tell of the pain and queasiness of sensory overload." Susie Campbell
Eachwhat Studio is at Unit 18, The Broadwalk Centre, Bristol, BS6 5BY
Julia Rose Lewis is the author of Phenomenology of the Feral (Knives Forks and Spoons Press, 2017), High Erratic Ecology (Knives Forks and Spoons Press, 2020) and The Hen Wife (Contrabrand, 2020). James Miller and she co-authored Strays (Haverthorn, 2017).
Paul Hawkins aka Bob Modem learn't how to drink lying down and sleep standing up with nearly disastrous consequences. He works mainly in poetry, visual art and performance. Author of Eachwhat Vol. 1 (Knives Forks and Spoons Press, 2020), Lou Ham: Racing Anthropocene Statements (Dostoyevsky Wannabe, 2018) and Why Chant Meat (Hesterglock Press, 2021), amongst others. More information can be found at eachwhat.com