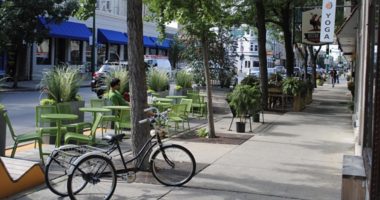 How can a Healthy Streets approach help Bristol bounce back from Covid19?
01/07/20
19:30 - 21:00
Free
More details: https://healthystreetsforbristol.eventbrite.co.uk
---
How has Bristol responded to the Covid19 crisis and how could the Healthy Streets approach aid our development of streets for people?
Bristol Walking Alliance and Bristol Cycling Campaign are delighted to invite you to our first joint webinar. The webinar will be in two parts.
In the first part, we will share our thoughts on what Bristol has done to respond to the need for more space for walking and cycling. We will talk about what we like, what we want to see more of and how Bristol's response compares to other cities.
For the second part of the webinar, we are honoured that public health expert Lucy Saunders will join us to describe how the Healthy Streets Approach could help Bristol move forward as it develops its walking and cycling plans. Lucy is a world-renowned expert who created Healthy Streets and then worked with Transport for London to implement it across Greater London. She now works with other cities and regions looking to deliver streets for people at pace and scale.
To find out more about Healthy Streets please click here https://healthystreets.com/home/about/