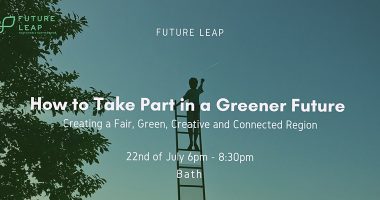 How to Take Part in a Greener Future
22/07/21
18:00 - 20:30
£10.81 – £28.80
More details: https://www.eventbrite.co.uk/e/how-to-take-part-in-a-greener-future-tickets-159674164725
---
One Shared Vision is part of the Bath and North East Somerset Council's response to the Covid crisis – to address the wide-ranging impacts experienced across the community and to ensure that recovery and rebuilding helps build a stronger, more resilient, fairer, greener, and (by 2030) net zero place.
Join us for this evening event to discuss how you can take part in a greener future.
We are excited to welcome Bath and North East Somerset Council, Storm Consultancy and Bath Share and Repair to speak at this event.
Expect informative talks, valuable networking opportunities and inspiring discussions to further support your ability to discover, collaborate and innovate.
This event is focused on the BANES area but welcomes all attendees, as all of the information and networking is applicable beyond the region.
More information to be announced.
If you purchase a physical ticket but the event is moved fully online, you can choose to have your ticket fully refunded or attend virtually with a partial-refund.
As an ambitious and forward looking place, Bath and North East Somerset recognises the current global crises (COVID, Climate, Black Lives Matter) as an opportunity to diversify the economy and build resilience – not "throwing the baby out with the Bath water" (sic) but harnessing the disruptive moment to create pathways to a fairer and greener future for people and the planet. In so doing, also positioning the region for new investment and wide ranging returns to ensure sustained prosperity. This is the strategic opportunity that formed the basis for the development of One Shared Vision, through a process involving 100 interviews with stakeholders, 8 themed workshops and an online interactive public consultation exercise.
Jane will outline what sits behind the vision, more about who has been involved to date and what the next steps are for further engagement and action planning.
David Kelly, CEO, Storm Consultancy will be talking about:
– What could make it easier for more businesses to start in Bath?
– How ambitious could the area be in respect of the 2030 vision?
– What do the council and partners need to do to reach net zero?
Agenda
18:00 – 18:20 – Registration, Refreshments and Networking
18:20 – 18:30 – Introduction from The Future Economy Network
18:30 – 18:45 – Jane Wildblood, Bath and North East Somerset Council
18:45 – 18:55 – Questions for Jane
18:55 – 19:10 – David Kelly, Storm Consultancy
19:10 – 19:20 – Questions for David
19:20 – 19:35 – Bath Share and Repair
19:35 – 19:45 – Questions for Bath Share and Repair
19:45 – 19:50 – 60 Second Pitches
19:50 – 19:55 – Close
19:55 – 20:30 – Networking & Nibbles