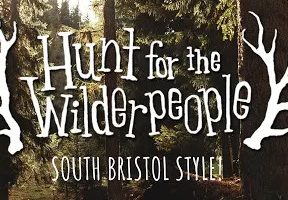 Hunt For The Wilderpeople, South Bristol Style!
03/04/21 - 10/04/21
-
FREE
More details: https://tinyurl.com/2pbcsj5s
---
Join us on a hunt to discover the wilder side to South Bristol
Become part of a free cinematic experience and complete our action-packed challenges (set in the wilds of South Bristol, or in the comfort of your own home!) before watching the critically acclaimed film Hunt For The WilderPeople. Complete the challenges and receive an exciting box of treasures to enjoy whilst watching the film.
Bristol WilderPeople come forth and connect to your Inner Adventurers!
The Challenges
To make this event extra special we've created a set of challenges for you to complete before the event. This is an optional extra, but we hope you get involved! From a bird spotting challenge, to building a den – there are 7 themed quests to complete, each designed to connect you to nature, get you exploring your 'hood, and generally GOING WILD.
You have a week to complete the challenges. The first of you to send us pictures of you completing your challenges will have the chance to win one of our 'watch along' boxes of goodies.
Challenges begin on the 3rd of April and end on the 10th.
For more info and to sign up >> https://tinyurl.com/2pbcsj5s
See you on the adventure!