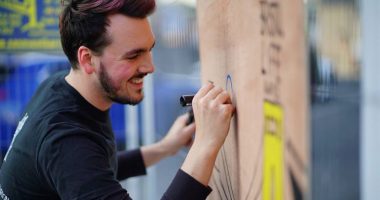 I Am Making Art Online: Cai Burton
28/11/20
13:00 - 14:00
Booking essential (suggested donation £5)
More details: https://www.spikeisland.org.uk/programme/events/i-am-making-art-cai-burton/
---
Join artist Cai Burton to explore your surroundings using pen, paper and whatever materials you can get your hands on. Drawing is about more than just making something look good – it's about observing your space, experimenting with different tools or materials, and taking some time to be mindful.
In this workshop, you will practice different drawing activities and methods before creating a piece using a range of styles.
I AM MAKING ART
These activity sessions are led by artists. Visitors of all ages and abilities can try out new techniques and approaches to making art, from drawing and painting to collage, sculpture and animation.
CAI BURTON
Cai Burton is an artist and the creator of Joyful Design, exploring how we can use creativity to build a better society. His work captures the city around him, nature and the fun that artwork can bring. He creates detailed illustrations and designs using hand-drawn patterns and sketches.