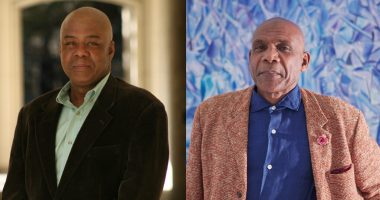 In Conversation: Denzil Forrester and Eddie Chambers
19/11/20
18:00 - 19:00
FREE
More details: https://www.spikeisland.org.uk/programme/events/in-conversation-denzil-forrester-eddie-chambers/
---
Painter Denzil Forrester is joined in conversation by artist, historian and curator Eddie Chambers, to discuss the exhibition Itchin & Scratchin and Forrester's wider practice.

DENZIL FORRESTER
Denzil Forrester (b. 1956, Grenada, based in Truro, UK) studied at the Central School of Art, London in 1979 and at the Royal College of Art, London in 1983. Recent solo exhibitions include A Survey, Stephen Friedman Gallery, London (2019); From Trench Town to Porthtowan, Jackson Foundation, St. Just (2018); White Columns, New York; Tramps, London (both 2016), all curated by Peter Doig and Matthew Higgs; Two Decades of Painting, The Edward Wilmot Blyden Project (2002); Memory and Images, Peterborough Museum & Art Gallery (1996). His work has been included in group exhibitions at Somerset House, London (2019); Tate Britain, London; Metro Pictures, New York (both 2017); Royal Academy of Arts, London (2000); The Studio Museum in Harlem, New York (1997); Barbican Art Gallery, London (1995); Whitechapel Gallery, London (1986) and Ashmolean Museum, Oxford (1984). He was awarded a scholarship by the British School at Rome in 1983-85 and a Harkness Fellowship in New York in 1986-88. Forrester's commissioned work, Brixton Blue, a reinterpretation of his seminal work Three Wicked Men (1982), is on view at Brixton Underground station in South London until September 2020.
EDDIE CHAMBERS
Eddie Chambers was born in Wolverhampton, England. He gained his PhD from Goldsmiths College, University of London in 1998, for his study of press and other responses to the work of a new generation of Black artists in Britain, active during the 1980s. Following periods of teaching at Emory University, Atlanta, he joined the Department of Art and Art History at the University of Texas at Austin in January 2010 where he is now a Professor, teaching classes and seminars relating to art history of the African Diaspora. He has guest-edited several issues of journals, namely Critical Interventions, NKA Journal of Contemporary African Art (two issues), and the International review of African American Art. His peer review texts have appeared in journals such as Small Axe: A Caribbean Journal of Criticism, Slavery & Abolition: A Journal of Slave and Post-Slave Studies, and Visual Culture in Britain. His books include Things Done Change: The Cultural Politics of Recent Black Artists in Britain (Rodopi Editions, Amsterdam and New York, 2012), Black Artists in British Art: A History Since the 1950s, (I. B. Tauris, London and New York, 2014, reissued 2015), and Roots & Culture: Cultural Politics in the Making of Black Britain, published 2017 (I. B. Tauris/Bloomsbury). He is the editor of the recently-published 40-essay volume, the Routledge Companion to African American Art History. His forthcoming book is World is Africa: Writings on Diaspora Art (Bloomsbury, London and New York, 2021), which brings together a range of texts written over the past two decades.