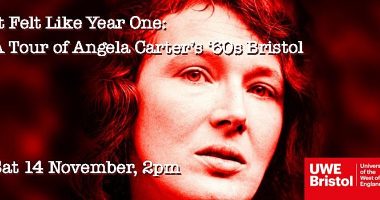 "It Felt Like Year One": A Tour of Angela Carter's 1960s Bristol
14/11/20
14:00 - 16:00
FREE
More details: https://www.eventbrite.co.uk/e/it-felt-like-year-one-a-tour-of-angela-carters-1960s-bristol-tickets-115347010012
---
Angela Carter was one of the twentieth-century's most acclaimed novelists and came of age as a writer in 1960s Clifton, where she experienced life in post-war Bristol, looking at a horizon bombed-out and derelict, but also booming with reconstruction schemes. On this tour through Clifton and Hotwells, we will revisit the places and counterculture that inspired her writing, in a society undergoing transformation and renewal so profound, that she declared: "Truly, it felt like Year One."
"Premonition of the imminent end of the world is always a shot in the arm for the arts; if the world has, in fact, just ended, what then?" (Angela Carter, "The Alchemy of the Word," 1978).
Join author Dr Stephen Hunt on a virtual tour of Angela Carter's 1960s Bristol followed by Q&A with Professor Marie Mulvey-Roberts and Dr Charlotte Crofts (co-founders of the Angela Carter Society).
The tour also draws on Dr Zoe Brennan's (UWE Bristol) chapter 'Angela Carter's Bristol Trilogy: A Gothic Perspective on Bristol's 1960s Counter Culture' in Mulvey-Roberts (ed.) Literary Bristol: Writers and the City (Redcliffe Press, 2015).
This is event is part of Being Human Festival 2020, the UK's only festival of the humanities.