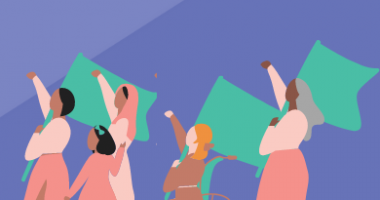 IWD Storytelling Event: Celebrating Difficult Women
05/03/21
20:00 - 22:00
Donation
More details: https://improvtheatre.co.uk/event/celebrating-difficult-women-2
---
In collaboration with Bristol Story Slam, The Delight Collective and Houria, join us online for an evening of storytelling to mark International Women's Day 2021.
Featuring special guest storytellers, including Kim Prado (founder of Houria), Deasy Bamford (Tribe of Doris) & poet Safiya Kamaria Kinshasa, the event will also give the opportunity for anyone from the audience to step up and share a true story, inspired by the theme of 'Celebrating Difficult Women'.
Hosted by Imogen Palmer (The Delight Collective) there will be facilitated opportunities to connect with other members of the audience. There will be an interval and it is BYO snacks & drinks.
Attendees will be invited to donate to Houria, a Bristol-based organisation which works to end modern slavery and provide training, safe employment and a sense of belonging to migrant women in a Bristol-based, Pan-African catering company.
In the words of Audre Lorde:
'Our speaking out will irritate some people, get us called bitchy or hypersensitive and disrupt some dinner parties. And then our speaking out will permit other women to speak, until laws are changed and lives are saved and the world is altered forever.
Next time, ask: What's the worst that will happen? Then push yourself a little further than you dare. Once you start to speak, people will yell at you. They will interrupt you, put you down and suggest it's personal. And the world won't end.
And the speaking will get easier and easier.'
How to Submit a Story
Anyone can put themselves forward to tell a true story, inspired by the theme of 'Celebrating Difficult Woman'. We believe the word 'difficult' can be used to label women who challenge expectations by speaking up against oppression and inspire positive change. Have you spoken up, in situations big or small? Have you been inspired by a woman in your life who stood against the grain or expectations of her time? Let's use this event to celebrate and share stories of courageous women.

Please use this short form to submit your interest in sharing a story. This includes asking for content/trigger warnings so we can communicate these to the audience in advance of your story, and give them a chance to step away if they need to.

Storytelling guidelines
Stories must be true
Told in 5 minutes.
Told from a first person perspective
Told without notes
Be 5 mins long or less
Be stories (i.e not monologues, rants, standup routines, spoken word etc.)