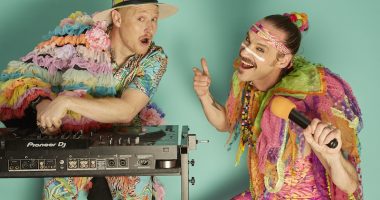 Junior Jungle at The Spiegeltent – 3rd Dec
03/12/22
13:15 - 15:30
£10.00
More details: https://christmasspiegeltent.co.uk/product/junior-jungle-3rd-dec/
---
Junior Jungle is THE festival favourite for family raves.
With high praise from some of the biggest children's entertainers these guys sure now how to throw a party for little ravers and big ravers.
Nick Terrific and MC Rocky patch are amped up and ready to discharge even more electric vibes for this storming set. These boy-oys are never static so expect a whole bunch of sparky choons, lightning hot costumes and their shockingly profound and hilarious take on life, the universe, and everything.
Don't bother wearing socks, junglists, 'cos they'll be blown clean off!! Big up the littlest massive!!
"Junior Jungle are in my top 5 acts ever booked for Camp Bestival. They just bring the child-friendly junglist ruckus wherever they go!" – Rob Da Bank
"Junior Jungle slam the tunes down one after another and when we say tunes we mean BIG tunes! The silent disco-ers loved them with chants of "more, more"!' – Dick & Dom
Event details
Doors open at 1:15pm
Show begins at 1:30pm
Show ends at 3:30pm
Tickets – £10 each for all ages (under one's are free)
Party Booths * can be reserved for an extra cost of £10 – seats up to 8 adults or 39 kids (OK, about 10 or 12).
If you booking for a birthday contact info@christmasspiegeltent.co.uk for more info about how we can help you.
*Booth reservation does not include admission, a separate ticket is required for entry to the Spiegeltent.
…and yes, the bar will be open!
Location: The Spiegeltent Bristol, Waterfront Square Bristol BS15LL
Phone: 0117 287 2484
Email: Info@christmasspiegeltent.co.uk
Please hit attending on our Facebook event page to be kept up to date with any event updates