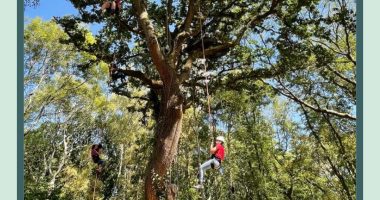 Launch of 'The World In The Woodland' audio walk at Tortworth Forest Centre
17/06/23
All day
Tickets start at £6 for entrance to the Visitor Day. There is a £1 cost to reserve your place on the
More details: https://tortwortharboretum.org/event/summer-celebration/
---
If we asked the trees their stories, what might they say?
If we listened, and then spoke in return, what would we want to tell them?
On June 17 you are invited to visit Tortworth Forest Centre for the launch of The World In The Woodland, an audio walk by artist Morgan Tipping, inspired by trees and the people that care for them. At this special event, you can grab an audio headset, wander amongst the woodland at its summer peak, and tune in to a constellation of voices in conversation with the trees. Developed through a 3 month research process at Tortworth, a 19th century arboretum turned community woodland, complex and affectionate tales speak of the deep connections between human and arboreal lives.
Sparked by an encounter with what English speakers know as the Monkey Puzzle Tree, and a curiosity about its significance in its native Chile and Argentina, Morgan has followed a research process guided by creative generosity, solidarity and care. Known as the Pewen by it's indigenous custodians in Chile, a relationship to this tree has in turn, opened up connections to artists and activists in Chile and researchers with a relationship to the Pewen tree across the world. These practitioners have been invited by Morgan into a process of collaborative exchange, sharing stories and making creative responses to the audio work, which speak to questions of access, reciprocity, care, connection and justice. Audiences will be able to hear newly commissioned spoken word from vocalist Rosina Al-Shaater, and creative responses from artists Consuelo Sánchez and Shakin Huaiquil Cariqueo.
Visitors are invited to experience the walk in a way that works for them. You can be lightly guided by designed visual markers across the site, or follow your own intuitive route to explore your connection to the trees.
The walk can take up to 60 minutes and may cover some uneven ground, though you are invited to go at your own pace and follow your own direction. If you would like to ask us more questions to determine the walks suitability and discuss access and adjustments we might be able to support, please contact celia@tortwortharboretum.org
Suitable for ages 12 +
These special audio walks are part of the summer celebration visitor at Tortworth Forest Centre. You must book a ticket for the visitor day and a walking slot on their website to attend.