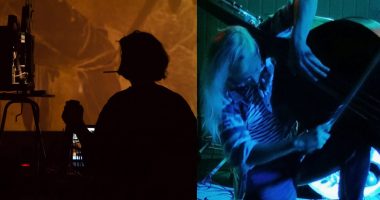 Live Audio Visual Performance: Laura Phillips and Joseph Kelly, Dogtooth Spar
10/12/20
20:00 - 20:40
FREE
More details: https://www.spikeisland.org.uk/programme/events/laura-phillips-joseph-kelly/
---
Join us for Dogtooth Spar, an online performance by Laura Phillips and Bristol-based musician and composer Joseph Kelly. Together Kelly (double bass) and Phillips (16mm projector and waterphone) explore timbre and sound possibilities as a reimagining of Phillips' latest work Beneath The Mead: cigar.lend.shave commissioned by Spike Island.

This audio-visual collaboration draws together ideas of ethnography, ecology, caves and community. It incorporates digital and analogue projections with live improvised music from Kelly.
LAURA PHILLIPS
Laura Phillips' work investigates the complexity of obsolescence and precarity as narrative devices. Phillips uses a mixture of photochemical processes, sounds and digital imagery and often makes work through conversation and collaboration. She is also one fifth of Viridian Ensemble; an audio visual performance group that uses live improvised music and images (both digital and analogue) to produce an ethereal blend of film and noise which reimages folklore and femininity.
JOSEPH KELLY
Joseph Kelly is a stalwart of the Bristol free jazz and improv scene, performing solo as Yungylek and collaboratively in various constellations, including the free-noise-no-wave-improv-harsh-jazz quartet Yoke. They are also known for their moniker Wendy Miasma, a political-synth-pop-power-house.
Yungylek.bandcamp.com
Wendymiasma.bandcamp.com
musicglue.com/exchange-records/products/yoke-yon
https://viridian.hotglue.me/
https://www.lauraphillips86.co.uk/

Beneath The Mead: cigar.lend.shave is commissioned by Spike Island, Bristol and supported by Arts Council England.