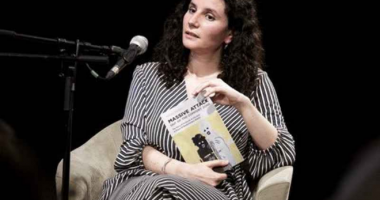 Melissa Chemam with Dr Anne Harbin: Here, There, Evenwhere…
27/04/22
19:00 - 20:30
£5.45 (including booking fee)/ Free for UWE Bristol Staff and Students
More details: https://arnolfini.org.uk/whatson/melissachemam-anneharbin/
---
Melissa Chemam in conversation with UWE Bristol's Associate Head of Department for Media Production and Journalism Anne Harbin, to discuss her writing created at Arnolfini over the past two years, and in particular her e-book 'Here, There… Evenwhere' on African/African diaspora artists who have exhibited at Arnolfini since its opening over 60 years ago.
For the past six decades, Arnolfini has brought the works of many thousands of artists, from all over the world, to hundreds of thousands of art lovers here in Bristol. Melissa's story of Arnolfini's past focuses on a number of artists who have shown here, who come from Africa, or who were born into various African diaspora communities around the world. Artists working in many different styles and media, and in response to a host of various cultural and political movements, are covered.
From the Harlem Renaissance to the Bristol Bus Boycott, the UK's joining of the EU to Brexit, a traditional commemoration of Edward Colston to the toppling of his statue. Weaving them together is Melissa's own unique perspective of Bristol, how she came to live here after a long-term interest in the city's art and music scenes, told from her vantage point as a journalist who has spent many years working in Africa and the Caribbean, and as a member of the African diaspora herself.
Organised in collaboration with UWE Equity, an award-winning programme aimed at providing personal and professional development opportunities for students who identify as Black, Asian or minority ethnic.