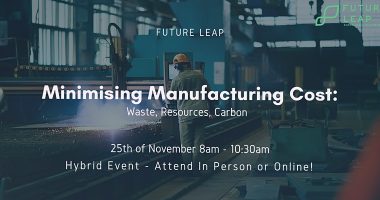 Minimising Manufacturing Cost: Waste, Resources, Carbon
25/11/21
08:00 - 10:30
£5.06 – £25.20
More details: https://www.eventbrite.co.uk/e/minimising-manufacturing-cost-waste-resources-carbon-tickets-190947959487
---
Manufacturers are finding their clients increasingly asking about their environmental credentials, but whilst under cost pressures it can be hard to prioritise sustainability.
Net zero, carbon footprinting and resource efficiency are coming up in conversations and many are unsure where to start.
Thinking about waste reduction and resource efficiency can not only reduce your carbon footprint, but minimise your manufacturing costs and therefore maximise your profit margin.
Would you like to know more about energy, waste, water use, regulation, legislation and suppliers? Would you like to reduce your costs whilst simultaneously increase your sustainability credentials? Then join us for this valuable morning event.
Future Leap are welcoming Ecosurety, Eunomia and Spherics to speak at this business breakfast.
More information to be announced.
Government guideline and pandemic dependent, this event will take place physically and virtually. Both options offer the full event experience, including networking, Q&A and our famous 60 second pitches. Virtual attendees will need to B-Y-O-Breakfast!
If you purchase a physical ticket but the event is moved fully online, you can choose to have your ticket fully refunded or attend virtually with a partial-refund.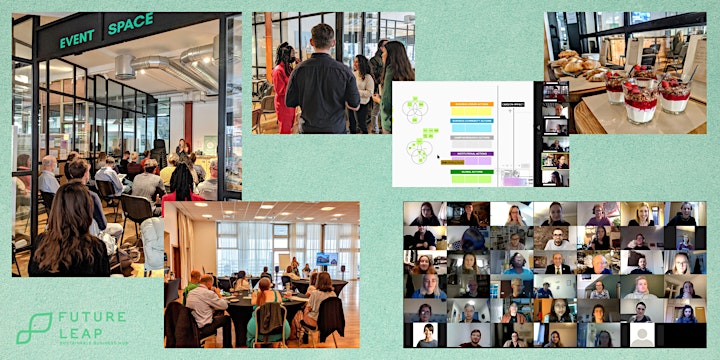 Alice Flavin, Business Development Manager at Ecosurety, will be speaking about "how to minimise the environmental impact of your products".
Whether you are keen to make your operations more sustainable or feel the pressure from your customer or supplier base, all SMEs have a role to play to move towards a more circular economy. Through examples and case studies Alice will demonstrate how collaborating with your industry and optimising your data can help you to minimise the environmental impact of your products.
Duncan Oswald, Head of Climate Science, Eunomia
Duncan will be speaking about wow to use the latest technology to facilitate calculating your carbon footprint, and how to use that knowledge to identify and implement measures to reduce greenhouse gas emissions, in line with the Paris Agreement and UK net zero commitment. The talk will look at where we are nationally and globally in terms of decarbonisation requirements, what is being done by governments and corporations, what this means for small businesses, and how to turn this all to your advantage.
Agenda
08:00 – 08:20 – Registration, Refreshments and Networking [Plus Virtual Attendees Networking Session]
08:20 – 08:30 – Introduction by Future Leap
08:30 – 08:45 – Ecosurety
08:45 – 08:55 – Q&A
08:55 – 09:10 – Mark Hilton, Eunomia
09:10 – 09:20 – Q&A
09:20 – 09:35 - Duncan Oswald, Spherics
09:35 – 09:45 – Q&A
09:45 – 09:50 – 60 Second Pitches
09:50 – 10:00 – Close
10:00 – 10:30 – Networking & Nibbles [Plus Virtual Attendees Networking Session]
Meet The Speakers!
Alice Flavin, Business Development Manager, Ecosurety
Alice is from Ecosurety, the market leading and B Corp certified compliance scheme investing in quality recycling. Since she joined the company in 2015, she works with obligated producers across the packaging, WEEE and batteries regulations to see how they could be making a more meaningful impact with their obligations.
With more than 1,000 customers including Danone, the Co-operative Group, Innocent and Virgin Media, Ecosurety supports efficient and more transparent investment in UK recycling projects via infrastructure, innovation and consumer awareness campaigns.
Mark Hilton, Head of Sustainable Business, Eunomia
Mark has over 37 years' experience in industry and consultancy and has worked across most industrial, commercial and retail sectors on resource efficiency (RE) and, more recently, on Circular Economy (CE) and Net-Zero carbon projects. He has extensive experience working for a wide variety of businesses in the UK and internationally, from SMEs in the UK to some of the world's largest corporates; helping these businesses to navigate the world of policy and compliance, build businesses cases for change, establish sustainability strategies and implement those strategies – often through practical 'hands-on' projects. As such he has helped hundreds of businesses to both improve their environmental performance whilst improving their competitiveness.
Duncan Oswald, Head of Climate Science, Eunomia
Duncan Oswald is a Chartered Environmentalist and Fellow of the Institute of Environmental Management and Assessment. He has over 25 years' experience of working in environmental consultancy, helping governments, local authorities and companies of all shapes and sizes to reduce their impact on the environment. Spherics is a tech startup based at Future Leap Bristol which has developed an automated carbon management system for small businesses, making the benefits of professional carbon management available to everyone.