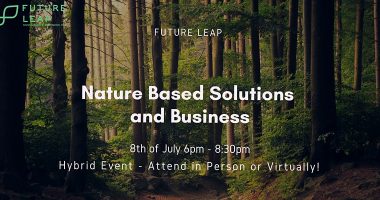 Nature Based Solutions and Business
08/07/21
18:00 - 20:30
£5.6-25.20
More details: https://www.eventbrite.co.uk/e/nature-based-solutions-and-business-tickets-154573871611
---
Why should business adopt nature-based solutions for climate and nature?
What steps can a company take to achieve a nature positive future?
Nature loss and climate change are inextricably linked. We will not achieve the Paris climate goals without nature-based solutions. Addressing the climate emergency and nature loss need to be key parts of the future strategy to build back better.
Join us in the run up to COP26 to discuss one of their key themes: nature-based solutions.
We are welcoming Network members Regenerative Partners, Nature Connection and Wanderlands to speak at this event.
Expect informative talks, valuable networking opportunities and inspiring discussions to further support your ability to discover, collaborate and innovate.
Agenda
18:00 – 18:20 – Registration, Networking and Refreshments
[Online Attendees: 18:00 – 18:05 Registration, 18:05 – 18:20 Group Networking]
18:00 – 18:20 – Registration, Refreshments and Networking
18:20 – 18:30 – Introduction from The Future Economy Network
18:30 – 18:45 – Tom Walmsley, Nature Connection
18:45 – 19:00 – Tim Oliver, Wanderlands
19:00 – 19:15 – Paul Pivcevic, Regenerative Partners
19:15 – 19:45 – Q&A
19:45 – 19:50 – 60 Second Pitches
19:50 – 19:55 – Close
19:55 – 20:30 – Networking & Nibbles
[Online Attendees: 20:00 – 20:20 Group Networking]