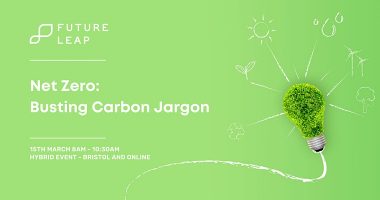 Net Zero: Busting Carbon Jargon
15/03/22
08:00 - 10:30
FREE
More details: https://www.eventbrite.co.uk/e/net-zero-busting-carbon-jargon-tickets-240158028127
---
Tackling the climate emergency as a business can be difficult when the language and methods used aren't always easy to understand or accessible to everyone.
What is the difference between carbon neutrality and net zero?
How can a business transition to net zero? What does the role of technology play in achieving this?
What impact do our supply chains have on our net zero ambitions?
Join us for this hybrid breakfast event with Microsoft, Science Based Targets Initiative, Rathbone Greenbank Investments and Future Leap to find out the answers to these questions and more.
More information to be announced.
Future Leap offers a spacious, covid-compliant event space with MHVR air conditioning units which take out old air and bring new air in. We also have reduced our capacity so you can be mindful of each other's space. We ask all physical attendees to take a lateral flow test before arriving.
If you purchase a ticket to this event and it moves online-only due to covid-19, you will be welcome to a full refund, a partial refund and online attendance, or a ticket swap at your discretion.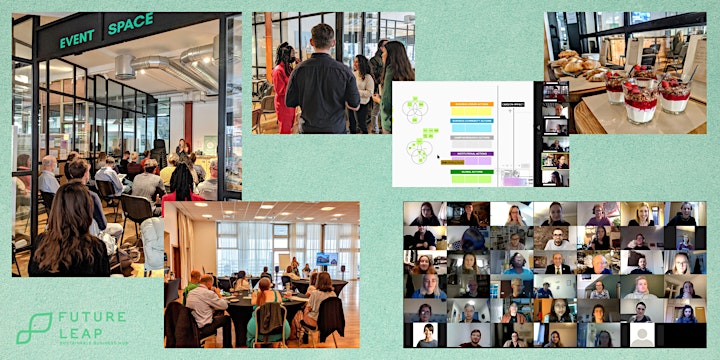 Alberto Arribas, Sustainability Science Lead for Europe, Microsoft
Technology can help achieve net-zero by improving the monitoring and facilitating the reduction and removal of greenhouse gas emissions. This talk will provide a brief discussion of challenges and opportunities where SMEs and start-ups could make a difference.
Kai Johns, Ethical, Sustainable and Impact Researcher, Rathbone Greenbank Investments will be speaking about supply chain emissions.
Kai will be explaining the problem, and how supply chain emissions are more relevant to some companies than others depending on where they sit in the value chain. Kai will then discuss the challenges companies face, including the complexity and lack of direct control over the supply chain. He will then move on to talk about the best 'levers' companies can pull in response to this lack of direct control, examples of best practice, and how companies could help others decarbonise their supply chain.
Agenda
08:00 – 08:20 – Registration, Breakfast and Networking [Plus Virtual Attendees Networking Session]
08:20 – 08:30 – Introduction by Future Leap
08:30 – 08:40 – Simon Forsyth, Senior Carbon Consultant, Future Leap – Jargon Busting and Carbon Terminology
08:40 – 08:50 – Kai Johns, Ethical Sustainable and Impact Researcher, Rathbone Greenbank Investments – Looking at Supply Chain Emissions
08:50 – 09:00 – Emma Watson, Senior Manager, Net-Zero, Science Based Targets initiative – How to Transition to Net Zero
09:00 – 09:10 – Alberto Arribas, Europe Sustainability Science Lead, Microsoft – The Role of Technology in Achieving Net Zero
09:10 – 09:40 – Q&A
09:40 – 09:45 – 60 Second Pitches
09:45 – 09:55 – Close
09:55 – 10:30 – Optional Networking & Tea/Coffee [Plus Virtual Attendees Networking Session till 10:15]
Meet The Speakers!
Alberto Arribas, Sustainability Science Lead for Europe, Microsoft
Alberto is also a Visiting Professor at the University of Reading Atmospheric Science department. Alberto holds a PhD in Climate Modelling (UCM, Spain) and a Diploma in Strategy and Innovation (Univ. Oxford, UK).
Prior Microsoft, Alberto worked at the UK Met Office where he led R&D for near-term climate prediction and founded the Informatics Lab, an innovation department where he led several research projects with top teams in the Technology industry (DeepMind, Microsoft AI for Earth, AWS).
His research has been published in over fifty papers and received various awards. He is a member of the European Environment Agency (EEA) Scientific Committee; Member of the UK Natural Environment Research Council Digital Environment Steering Committee; and an Expert reviewer for the UK Parliament Office for Science and Technology and the European Commission in the area of Future and Emerging Technologies.
Kai Johns, Ethical, Sustainable and Impact Researcher, Rathbone Greenbank Investments
Rathbone Greenbank Investments is the dedicated ethical, sustainable and impact team of Rathbones, one of the UK's leading investment managers. As specialists, we know how to balance financial objectives with ethical, social and environmental concerns. We are one of the most experienced teams in this field and have been pioneers in driving change in business and society through ethical investment.
Kai Johns joined the ethical, sustainable and impact research team in March 2019 after graduating from the University of Cambridge with a BA in Law. He responsible for assessing the social and environmental performance of companies.