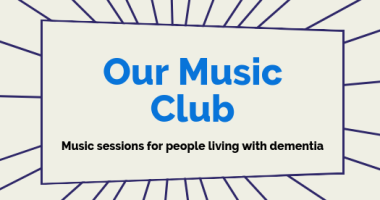 Our Music Club – Music sessions for those living with dementia
28/09/23
11:00 - 12:30
FREE
More details: https://bristolbeacon.org/music-for-everyone/our-music-club/
---
Our Music Club: free music sessions for adults living with dementia and their households or supporters, from Bristol Beacon in collaboration with Bristol Dementia Wellbeing Service.
Our Music Club, uses music to improve quality of life of participants by making music together. Supported by three professional musicians, sessions provide a joyful and connective opportunity for people to be together in the present.
Sessions start as a coffee morning with refreshments, and then move into an hour of music making. The club invites people to make music together in the present moment with activities such as:
Physical and vocal warm ups
Learning new songs
Music appreciation
Improvisations
Conducting exercises
Joining Our Music Club
If you feel you, a family member or a person you support would benefit from joining Our Music Club, please speak to your GP, Dementia Navigator or contact us at the address below.
Date: Thursdays 11:00 – 12:30
Location: Main Hall, Filwood Community Centre, Barnstaple Rd, Bristol BS4 1JP