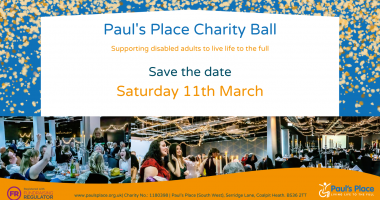 Paul's Place Charity Ball 2023
11/03/23
19:00 - 00:30
£59.95 per seat
More details: https://www.paulsplace.org.uk/grand-ball-2023/
---
Our Charity Ball is back for 2023 after a record-breaking year in 2022!
This year as part of your ticket, you can enjoy;
A welcome drink, 3-course meal, live music and a performance by stand-up comedian Joshua Robertson. For those of who you don't know Joshua, he is a brilliant comedian representing disabled people in the field of comedy.
Plus there will be a raffle and auction on the night, giving you the chance to win some fantastic prizes!
Our community raised a phenomenal £11,000 last year, which has supported our vital services in 2022. Thanks to the funds raised we could continue to support physically disabled adults living in Bristol, South Gloucestershire and North Somerset. The funds raised provided social activities that connect people, reduce isolation, improve health and well-being and give people the opportunity to develop new skills, enjoy new experiences and live life to the full.
Around 99 service users were supported in 2021/22. A service that has been referred to as a lifeline by many.
"I get the feeling that I'm not alone. That I'm not the only disabled person in Bristol – as silly as that sounds – but at the time I didn't know any disabled people." – Ben
Important event details:
Venue: The Village Hotel in Filton, BS34 6FG
Ticket information can be found on our website and the booking form: https://www.paulsplace.org.uk/grand-ball-2023/