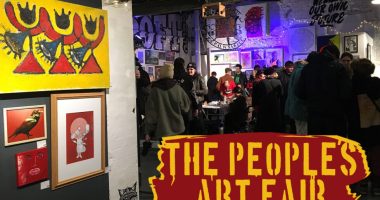 Peoples Art Fair at the PRSC
02/12/22 - 11/12/22
-
FREE
More details: https://prsc.org.uk/peoples-art-fair/
---
Roll up, roll up, come one, come all, the next People's Art Fair is coming and it's going to knock your socks off!
Presenting the ecclectic work of 70 artists and featuring all kinds of events including arty workshops, the People's Poetry, and a makers market, the People's Art Fair December Edition offers an outpouring of creativity from some of the most unusual minds in Bristol. This event is guaranteed to be a creative bonanza featuring oil paint, collage, china, spray paint, fabrics, biro, acrylics, found objects, erotica, pencil, poetry, illustration, politics, a festive market landscapes, music, workshops, and everything else you can think of plus quite a lot you can't!
So come along and open your mind to the ecclectic and wonderful world of the PRSC's Peoples Art Fair.
Deets:
The exhibition will be open every day 12-6pm from Friday December 2nd to Sunday 11th
Free entry.
At PRSC, 17 Jamaica Street, BS2
Featuring artwork by: Kat Martin, Rafael Duncan, Lazo, Tatenda A Majoni art, TG Freeson, Keep StuM, Sonic, Mez, Zake, Beautiful Things in Foreign Lands, Wistful Horizons, P., DazCat, Rosie Newman, TropicaLala, AJ4X23, Raquel Blazquez, Pablo, Paulo Da Silveira, Paul Saville, Patrisha's Art, Oshii, Orla Brachi, Hola, Nils Agger, Niamh Watkins, URBAN FAY, Nathanael Tabrett, Millie Mynard, Mike Stuart, Max Middlewood, Jack B. Coll, Chloe Sakal, General Bench, Andrung Heinzelmann, Antonia Purdie, Octopus Odyssey, [ a y s h ], Object…, ArtySwami, Dan Petley, Elena Hayward, David Hyde Fierce, Emma & Millie, BIKEBONESBRISTOL, Genevieve Murray, Harry Westbrook, H. V Povey, Nosebleed Freak, Jacob Moon, Gazu, James Kemp, Sayjamm, Jennie Cave, Jennique, Jen0mi, Jillo, Joe Bartlett Ashworth, Joe Tymkow, Zlyzab, Anonymous, Lisa Travers, TwoBirds Art, Luca Zenti, Looce, Gyassi, Mandi Collingridge, Mark Povey, CRACKBABY, Marlon Lorenty, Zubieta, Martha Makes It, Julie Prior, Emily Trott
Events include: Makers Market (Dec 3rd) People's Poetry (Dec 7th) Peoples Jam Session (Dec 10th). Visit https://prsc.org.uk/peoples-art-fair/ for full info.